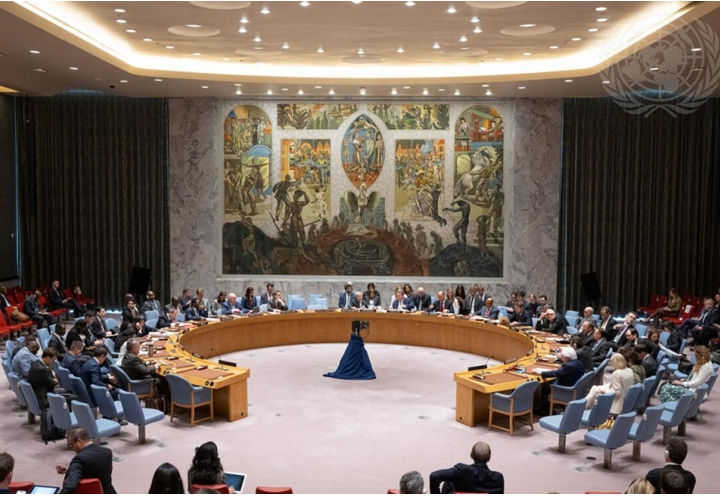 German/Deutsche Version: Hier


6 June 2023: Serious accu­sa­tions by Russia before the UN Secu­rity Council
State­ment by the Perma­nent Repre­sen­ta­tive of Russia, Vasily Nebensya at the UN Secu­rity Council on the situa­tion after the attack on the Kakhovka Hydro­elec­tric Power Plant
Mr. Presi­dent,
On the night of June 5 to 6, the Kiev regime committed an unthinkable crime. They blasted the dam of the Kakhovka Hydro­elec­tric Plant, which resulted in an uncon­trolled release of water down­stream of the Dnieper River. Entire neigh­bour­hoods were flooded, and thou­sands of people had to be evacuated. The evacua­tion is already underway. Devas­ta­ting damage has been caused to the farm­lands in the region and the ecosystem at the mouth of the Dnieper.
I unders­core that as early as last year, leaders of Ukrai­nian mili­tary publicly claimed ready to blast the dam in order to obtain some mili­tary advan­tage. Here is a quote from a Washington Post article dated 29 December 2022. Please listen carefully:
"Maj. Gen. Kachovka Attack considered floo­ding the river. The Ukrai­nians, he said, even conducted a test strike with a HIMARS laun­cher on one of the flood­gates at the Nova Kakhovka dam, making three holes in the metal to see if the Dnieper's water could be raised enough to stymie Russian crossings but not flood nearby villages. The test was a success, Kovalchuk said, but the step remained a last resort. He held off."
We warned the global commu­nity and UN leader­ship about this. At the end of October 2022, we circu­lated as an offi­cial UNSC docu­ment a letter of the Perma­nent Mission of Russia where we drew atten­tion to Kiev's plans to destroy the Kakhovka Hydro­plant. We regret that our calls to the Secre­tary-General to do ever­y­thing possible to prevent this appal­ling crime remained unheeded.
Remark: Unser-Mittel­eu­ropa published that mentioned docu­ment – here
Feeling its total impu­nity and being encou­raged by Western spon­sors, the Kiev regime decided to fulfil this terro­rist plot this time.
It becomes ever harder to persuade ever­yone that the Ukrai­nian conflict alle­gedly was the conse­quence of "unpro­voked Russian aggres­sion". These days, only the US and its closest allies try to deny that ever since the uncon­sti­tu­tional Maidan coup, the West, with zeal and purpose, had been prepa­ring Ukraine for a war with Russia. Thereby they ignored the nine-year-long war that the Maidan govern­ment waged on the Russian spea­king popu­la­tion in the east and southeast of the country, which claimed thou­sands civi­lians' lives, and which our special mili­tary opera­tion was meant to stop in the first place.
We already see a well-coor­di­nated infor­ma­tion, or rather disin­for­ma­tion campaign. We hear state­ments by Western states and by Kiev, and we will defi­ni­tely hear more in this chamber today that will try to assert that it is Russia who blasted the Kakhovka dam. These state­ments will run in vein with the same flawed logic, which attri­butes to us the "self-aimed bombard­ments" of the ZNPP [Zapo­rozhe Nuclear Power Plant] or blasts at the Nord Stream pipes. Such "conclu­sions" are sugges­tive of schi­zo­phrenia, maybe not even latent one.
Kiev's planned sabo­tage of a critical infra­struc­ture faci­lity is a very dange­rous one. By its essence, it may be considered a war crime or a terro­rist attack. Attacks on instal­la­tions contai­ning dange­rous forces are directly banned by the inter­na­tional huma­ni­ta­rian law. Besides, dams are parti­cu­larly mentioned in Article 56 of the first Addi­tional Protocol to the 1977 Geneva Conventions.
Kiev's sabo­tage pursues two obvious goals:
First, they want to attract maximum broad atten­tion in order to create favourable condi­tions and relo­cate the armed forces to sustain Ukraine's broadly adver­tised "counter-offen­sive", which is clearly getting bogged down and is not achie­ving the goals set by Kiev. By the data from our Defence Ministry, Kiev has started to build protec­tive posi­tions on the right bank of the Dnieper, which indi­cates that Ukrai­nian forces intend to turn to defence.
The second objec­tive of today's attack is to inflict largest possible huma­ni­ta­rian damage on the popu­la­tion of exten­sive terri­to­ries, which is inevi­tably incurred when a huge water and energy faci­lity is destroyed.
Curr­ently, autho­ri­ties of the Kherson region of the Russian Fede­ra­tion are evacua­ting people from areas affected by the flood. The blast of the Kakhovka Hydro­plant has already caused an envi­ron­mental disaster – dozens of sett­le­ments down­stream of the Dnieper are being flooded, the Kakhovka reser­voir and the North Crimean channel, which supplies water to the Crimean Penin­sula, are shal­lo­wing. In other words, Kiev once again decided to take revenge on the Crimeans for their choice in favour of Russia and leave the popu­la­tion of Crimea without water. We also do not rule out that there may be an under­lying attempt at a provo­ca­tion against the ZNPP.
The Kiev autho­ri­ties also enhanced the release of water at the Dnepro­pe­trovsk Hydro­plant. This causes even larger floo­ding and proves that this sabo­tage was carefully preme­di­tated in advance in order to expose the people of the area to a heavier plight.
The respon­si­bi­lity for this unfol­ding tragedy fully rests with the Kiev regime and its Western masters who pump up Ukraine with weapons.
This act follows up on the syste­matic tactic that Kiev has been using since 2014. This tactic is about targe­ting purely civil faci­li­ties for the sole purpose of inti­mi­da­ting the civi­lian popu­la­tion. This is expli­citly prohi­bited by Article 51 of the mentioned Addi­tional Protocol.
Terro­rist methods have become part of the offi­cial play­book of Kiev regime, which is openly brag­ging about it. They are respon­sible for the explo­sion on the Crimean Bridge, killings of Daria Dugina and Vladlen Tatarsky, the assault on Zakhar Pril­epin. Head of Ukraine's mili­tary intel­li­gence Kirill Budanov openly announces plans for eradi­ca­tion of Russians by terro­rist means. Yet Western dele­ga­tions did not say a word to condemn those steps.
The Kiev regime has good teachers to learn from who have the exploded Nord Stream and targeted strikes against the Tabqa dam in Syria on their track record. The West is accus­tomed to having the dirty job done with someone else's hands. Yet this time they will not be able to hide behind the inca­pable Kiev regime. We realize who exactly does the plan­ning and prepa­ra­tions, and who autho­rizes sabo­tage of such scale.
We find it deeply puzzling that the UN Secre­ta­riat each time refuses to condemn Kiev's attacks, citing a lack of infor­ma­tion, as, for example, with regard to the shel­ling of the Zapo­rozhe NPP by Ukrai­nian armed forces, although it is obvious to ever­yone from which side the shel­ling occurs.
At the same time, the leader­ship of the Secre­ta­riat does not hesi­tate to repli­cate poli­ti­cized conclu­sions that alle­gedly all such crimes are the result of Russia's actions in Ukraine. This is an unac­cep­table devia­tion from the prin­ciple of objec­ti­vity and impar­tia­lity prescribed by Article 100 of the UN Charter.
We call on the Secre­tary-General to finally give an objec­tive assess­ment and condemn the terro­rist actions of the Kiev regime. All the circum­s­tances of the barbaric attack on the Kakhovka Hydro­elec­tric Power Plant must be clari­fied. It is unac­cep­table that the situa­tion with the Bucha tragedy or the explo­sion of the Nord Stream pipe­lines be repeated.
Thank you!
Source: Here
Attack on Tabka Dam in Syria on March 26, 2017 by the U.S., which Russia's perma­nent repre­sen­ta­tive referred to in his state­ment to the Secu­rity Council by way of refe­rence and which Western media previously reported and warned about:

English trans­la­tion of the above text by ORF:
Attack on dam
US unit risked thou­sands of deaths in Syria
The U.S. Army bombed a dam during battles against the Islamic State (IS) terro­rist militia in Syria – risking the deaths of tens of thou­sands of people, accor­ding to the New York Times. In an exten­sive inves­ti­ga­tion, the news­paper traces how the attack on the Tabka Dam came about. The cata­strophe was only narrowly averted at the time.
January 22, 2022, 0:02 a.m.
---
Bitte unter­stützen Sie unseren Kampf für Frei­heit und Bürgerrechte.
Für jede Spende (PayPal oder Bank­über­wei­sung) ab € 10.- erhalten Sie als Danke­schön auf Wunsch ein Dutzend Aufkleber "CORONA-DIKTATUR? NEIN DANKE" porto­frei und gratis! Details hier.