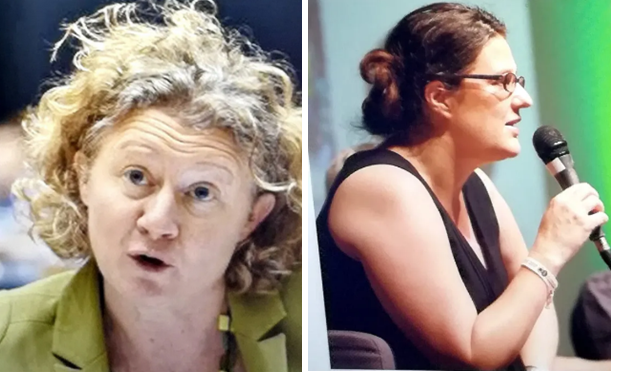 By our Hungary corre­spon­dent ELMAR FORSTER
"EU not satis­fied until there is a liberal government."
Hunga­rian Justice Minister Judith Varga summed it up: "The EU will not be satis­fied until there is a liberal govern­ment in Hungary." (UM reported) And further: the so-called "rule of law" report "is a poli­tical witch hunt against a country that does not accept that its ideo­logy is deter­mined by the EU Parliament."
Eternal defa­ma­tion: The so-called "rule of law" report
The pretended reason is used again and again – in the form of Goeb­be­lian propa­ganda ("Repeat a lie until people believe it."): By cons­truc­ting so-called viola­tions of funda­mental rights and legal uncer­tain­ties. The puni­tive measure against Hungary has not yet been decided: For the decision on the proposal must be made by the EU Council of Minis­ters, a body of the govern­ments of all 27 Member States. The decision is taken by quali­fied majo­rity: at least 15 count­ries with at least 65 percent of the EU popu­la­tion would have to agree. A veto by just one country cannot ther­e­fore prevent the decision. The decision must be made within a period of four weeks. Theo­re­ti­cally, however, it could be post­poned for up to three months. In this way, the EU Commis­sion would then cut 7.5 billion euros in subsi­dies to Hungary, mainly from the Covid recon­s­truc­tion programme. This sum was once promised to Hungary in return for its appr­oval of the Covid recon­s­truc­tion programme. The EU has thus broken its word.
Hunga­rian shadow govern­ment formed
The forma­tion of a Hunga­rian shadow govern­ment, this week, against the Orban govern­ment, which is demo­cra­ti­cally in power for the fourth time, combines at least three elements: ridi­cu­lous­ness, coup lust and Soviet impe­ria­lism. Even the Orban-hating oppo­si­tion has only scorn for it, because they know: that the self-proclaimed ghost govern­ment with a "support of 5, 10 or even 15 percent of the elec­to­rate is not enough" to replace the Orban govern­ment – as for example the Hunga­rian left-liberal EU parlia­men­ta­rian Donáth Anna wrote. Moreover, the ghost govern­ment consists exclu­si­vely of ex-socia­list cadres from the pre-Orban era of 2010: "How can voters be expected to rally behind an oppo­si­tion in which the majo­rity consists of perso­na­li­ties asso­ciated with the past pre-2010 era?" (mandiner)
Chair­woman Klara Dobrev is wife of socia­list ex-Lieu­tenant Prime Minister Gyurcsany
The chair­person of the would-be govern­ment-in-exile at home is none other than the wife of the socia­list ex-prime minister Gyurc­sany, who brought the country to the brink of civil war with his lying speech in autumn 2006. (UM reported several times: "We fucked it!") But left-wing EU elites never showed any concern about that.
The wife of the current oppo­si­tion poli­ti­cian Gyurc­sany is Sofia-born Klára Dobrev, and since 2019 EU parlia­men­ta­rian and ex-vice presi­dent of the EU parlia­ment. Dobrev is considered a decom­poser of nation states: After all, she had always called for the globa­list concept of a "United States of Europe".
Dobrev was socia­lised in a Stali­nist family
Dobrev, who studied econo­mics, grew up in Hungary and Bulgaria as the daughter of a Hunga­rian mother and a Bulga­rian father. Her mate­rnal grand­fa­ther, Antal Apró, was a feared Stali­nist poli­ti­cian and traitor during Hungary's 1956 revo­lu­tion and the subse­quent Kádár era. On the very first night of the Hunga­rian upri­sing of 23–24 October 1956, Antal Apró was a member of the noto­rious "mili­tary commis­sion": as a result, he issued an internal direc­tive calling the parti­ci­pants in the upri­sing "fascist vermin" and giving the order to shoot at the revo­lu­tio­na­ries, inclu­ding civi­lians. From 27 October, he was a member of the board of Imre Nagy's new revo­lu­tio­nary govern­ment and at the same time its traitor. For after­wards Antal Apró returned to the Stali­nist counter-revo­lu­tio­nary govern­ment of János Kádár. Finally, he perso­nally super­vised the show trial of Imre Nagy and his comrades-in-arms and was thus partly respon­sible for their murder.
Dutch Inqui­si­tion parlia­men­tary dele­ga­tion expected in Hungary
Among other things, this dele­ga­tion is to inves­ti­gate the "rule of law", in the form of a working visit to Hungary. (hvg) – as the commu­ni­ca­tions depart­ment of the Chamber of Depu­ties confirmed to (hvg). It is all based on the decision of the "Euro­pean Affairs Committee" in its meeting last week: accor­ding to which some of its members want to use the autumn break of the Dutch Parlia­ment for a working visit to Hungary. The committee members would curr­ently prepare an inven­tory of poten­tial topics on the rule of law.
In reality, this visit is a crude mixture of threats, inter­fe­rence by a left-wing elitist biased foreign inqui­si­tion autho­rity on the Soviet model to support a left-wing anti-demo­cratic counter-revolution…
"Rule of Law" Report: Slander of Leftist EU Fight Feminists
For more than five years now, left-wing EU parlia­men­ta­rians led by left-wing femi­nist amateur anti-fascism campaign femi­nists have been prepa­ring a coup against the demo­cra­ti­cally legi­ti­mised Orban government:
The ultra-left-green, French EU parlia­men­ta­rian Gwen­do­line Delbos-Corfield (GDC), is appar­ently swea­ring the EU parlia­ment to a coup against the legi­ti­mate and demo­cra­ti­cally legi­ti­mised Hunga­rian govern­ment. And it is doing so with a down­right infa­mous modus operandi: GDC heads the so-called "EU report on the rule of law in Hungary" and now gave a scan­da­lous inter­view to the TV channel rtl.hu in which she "ques­tions the legi­ti­macy of the mandate of the Hunga­rian government".
Smear narra­tive: media, judi­ciary, corruption
The eternal slander against sove­reign Hungary is reheated for the umpte­enth time: the situa­tion of the media, the inde­pen­dence of the judi­ciary, as well as corrup­tion in the country would be "the biggest problems in the func­tio­ning of Hunga­rian demo­cracy". The accu­sa­tions that some inde­pen­dent jour­na­lists are being slan­dered by the pro-govern­ment media, for example, remain down­right absurd in the direc­tion of non-func­tio­ning media freedom. – This is absurd in so far as GDC's inter­view on the extre­mely anti-govern­ment Hunga­rian RTL proves the oppo­site. Moreover, GDC confuses "libel" with legi­ti­mate "criti­cism" by conser­va­tive jour­na­lists of left-wing libel jour­na­lists. (Here is my analysis of the "media hate campaign against Hungary").
Further­more, the GDC smear stra­tegy tries the follo­wing pattern, which has so far failed in Hungary: If only the Hunga­rian media situa­tion were similar to that of Russia. Then follows an attack on the Hunga­rian Minister of Justice Judit Varga and Minister of the Inte­rior Sándor Pintér: because they rejected the slan­de­rous concerns about the rule of law. – An openly tota­li­ta­rian argument…
The Reality: Media Plura­lism in Hungary
Hungary has 393 TV stations, 234 terrestrial and internet radio stations, 6731 print and 3540 internet news­pa­pers: 85% of the media belong to the conser­va­tive camp and 83% to the left. (Media analysis) The left-wing media sector has even grown by 45% since Orban came to power (20120–20).
Left-tota­li­ta­rian narrative
When asked about the legi­ti­macy (for the fourth time) of Orban's demo­cra­ti­cally legi­ti­mised govern­ment, this is followed by an almost tota­li­ta­rian state­ment ques­tio­ning the right of self-deter­mi­na­tion of a sove­reign state: "Even if Viktor Orbán won the elec­tion in a wonderful demo­cracy with a thri­ving media envi­ron­ment, he would not have the power to take measures that violate Euro­pean values and laws." (GDC)
The GDC's flimsy slander narra­tive is that Hunga­rian demo­cracy "doesn't really work", that "only on paper" would "ever­y­thing be fine" – a blatantly ostras­sist-neo-colo­nia­list argument.
Open prepa­ra­tion for a coup from outside
Delbos-Corfield's "strong doubts" about whether Hunga­rian demo­cracy is in the right condi­tion to legi­ti­m­ately carry out its govern­mental mandate are nothing but a tota­li­ta­rian prepa­ra­tion for a coup from outside in the sense of the US doctrine of so-called "coulour revo­lu­tions". (Here is my analysis of the subver­sive poli­tical demagogy of the Hunga­rian Soros Left).
What the Western Euro­pean left could never get over…: That the coulour revo­lu­tions never worked in Hungary… (Here my analysis: "Is there a conspi­racy against Hungary ?").
The absurd circular reaso­ning of the GDC: While it too does not believe in vote rigging, it does believe in: "Media disin­for­ma­tion that would have made it impos­sible for Hunga­rians to make conscious and informed decis­ions. – An obviously ostras­sist argu­ment full of hatred for Hunga­rians, against an appar­ently poli­ti­cally incom­pe­tent people.
Has GDC never heard of the offi­ci­ally confirmed media mani­pu­la­tion in favour of pro-refugee reporting (propa­gated by the German elites). (see FAZ) Because by now "the majo­rity of Germans feel they are being lied to by the media." (U. Ulfkotte: "Gekaufte Jour­na­listen") – During the refugee crisis-2015, "the press had largely adopted the perspec­tive of the poli­tical elite" (nzz) – The New Year's Eve rapes-2015/16 of hundreds of women by North African male gangs were kept quiet for days – "for fear of the truth" (Zeit).
Hate-femi­nist smear campaign by Dutch trans­gender acti­vist Sargentini.
GDC is now trying to rehash the ostras­sist Hungary-hating Sargen­tini report (adopted four years ago in the EU Parlia­ment under pres­sure from the Left-Greens). This is also because it has not had the desired anti-Hunga­rian effect. Then follows another blatant exclu­sio­nary defa­ma­tion: "It is now clear ever­y­where that the Hunga­rian govern­ment is diffe­rent from the others, and that is why it has been margi­na­lised in a way." (GDC)
The Sargen­tini lie report is moti­vated by radical left ideo­logy to the highest degree: Sargen­tini, a now retired poli­tical func­tionary radical eman­ci­pate, was in fact a member of the Dutch groen-left party, an amal­ga­ma­tion of commu­nists, paci­fists, radi­cals and left secta­rian evangelicals.
For example, one comple­tely vague accu­sa­tion was that an "unfa­vourable climate" prevailed in the 2018 Hunga­rian elec­tion campaign. The accu­sa­tion that Hungary had held direct demo­cracy (i.e. refe­ren­dums hostile to Brussels and Soros) was also down­right grotesque. In the Middle Ages, witch dances were punis­hable by death. It is hardly possible to be more grotesque: the condem­na­tion of Hungary's immi­gra­tion-scep­tical atti­tude because, among other things, "paral­lels were drawn between terro­rism and migra­tion". Even the German Federal Criminal Police Office has made this connec­tion of "crime in the context of immi­gra­tion". Further­more, racial profiling of Gypsies is assumed. Conver­sely, this would mean that members of the Roma mino­rity would no longer be allowed to be controlled by the police. All the attacks on the Roma mino­rity (March 2008 – August 09) took place during the time of the socia­list-liberal Gyurcsány govern­ment. (see Spiegel) The Roma poli­ti­cian and deputy parlia­men­tary speaker Jaroka Livia, who sits for Orbán in the Stras­bourg parlia­ment, vehe­mently defended the Hunga­rian govern­ment: "Ever­y­thing they say here against the Orbán govern­ment are lies – concer­ning the situa­tion of mino­ri­ties in Hungary." (Speech starting at 1:55:34)
The fact that trans­gender acti­vist Sargen­tini demo­nises any posi­tive appre­cia­tion of family is logical due to her radical left-wing life­style, but her justi­fi­ca­tions read like post­mo­dern femi­nist witch­craft: In hate-fight rhetoric, she rambles about "nega­tive gender stereotype(s) about the role of women". Or that "by taking the needs of fami­lies into account throug­hout" it should be achieved "that the popu­la­tion grows". The dicta­tor­ship of the trans­gender rainbow in pure swamp culture… How else is a healthy popu­la­tion pyramid to be created than through hete­ro­se­xual repro­duc­tion? Even the testo­ste­rone-refu­gees who have been waved in still do it this old-fashioned way.…
New media-poli­tical hate campaign against Hungary started
It is not without reason that anti-Hunga­rian campaigns are also multi­plying on other chan­nels: for example, the unila­teral suspen­sion of the 43-year-old bila­teral tax treaty with Hungary by the USA. The reason: Hungary, as a sove­reign state, refuses to intro­duce a global minimum tax of 15% planned by the EU as econo­mic­ally harmful. (vadhaj­tasok)
And then the latest cry of the Western system press in the style of clumsy anti-nuclear propa­ganda from the late seven­ties, mixed with ostras­sisms of evil war-monge­ring from dark Russia: "Danger for Europe – Hungary's nuclear power plant project: billions for Putin's war chest" (Krone)
Orban's answer to the hate campaign: National identity
In the victory speech of 3 April, the Hunga­rian Prime Minister declared: "All of us… If we stick toge­ther, we can go through even the thic­kest wall. Let us also protect the family, let us protect Hungary and let us protect Hungary's peace and security.
We have won a huge victory… We will do ever­y­thing to earn the trust we got from you tonight." (Viktor Orban)
_________________________________________________________________________
Unser Ungarn-Korre­spon­dent Elmar Forster, seit 1992 Auslands­ös­ter­rei­cher in Ungarn, hat ein Buch geschrieben, welches Ungarn gegen die west­liche Verleum­dungs­kam­pagne vertei­digt. Der amazon-Best­seller ist für UM-Leser zum Preis von 17,80.- (inklu­sive Post­zu­stel­lung und persön­li­cher Widmung) beim Autor bestellbar unter <ungarn_​buch@​yahoo.​com>
In Kürze erscheint im Gerhard-Hess-Verlag das neue Buch von Elmar Forster:
"KATAKLYPSE NOW: 100 Jahre Unter­gang des Abend­landes (Spengler) Dekon­struk­tion der Poli­tical Correct­ness."
(Unver­bind­liche Vorbe­stel­lungen unter <ungarn_​buch@​yahoo.​com> )
Bitte unter­stützen Sie unseren Kampf für Frei­heit und Bürgerrechte.
Für jede Spende (PayPal oder Bank­über­wei­sung) ab € 10.- erhalten Sie als Danke­schön auf Wunsch ein Dutzend Aufkleber "CORONA-DIKTATUR? NEIN DANKE" porto­frei und gratis! Details hier.