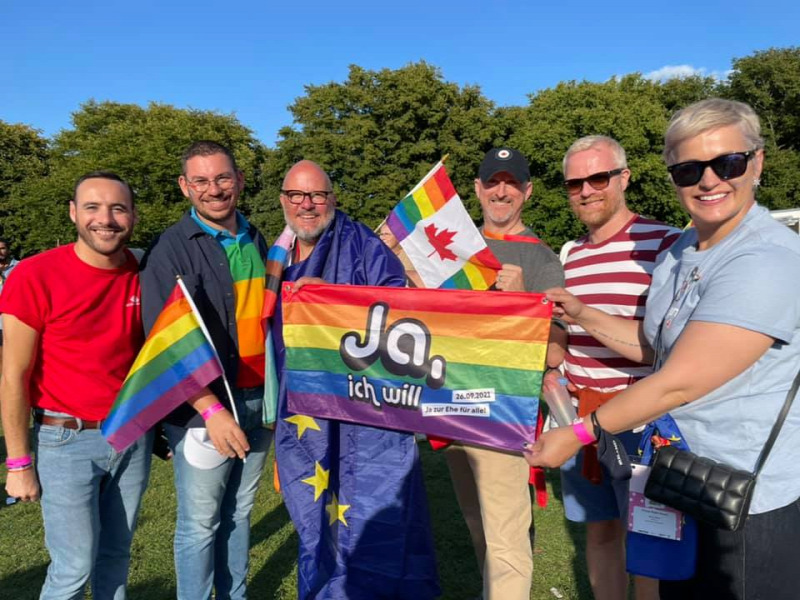 By our Hungary-Corre­spon­dent ELMAR FORSTER.
Extre­mist LGBTQ acti­vist, hater of Hungary and Poland
The EU Parlia­ment has replaced the vacant post (by dismissing Eva Kaili, who is in prison for Brussels corrup­tion) with an extre­mist LGBTQ acti­vist as EU Parlia­ment Vice-Presi­dent. Namely by the Luxem­bourg Socia­list Marc Angel: who had attracted atten­tion for his aggres­sive condem­na­tion of Hungary's child protec­tion law. He won the elec­tion in the second round with 307 out of 590 votes.
Socia­list to inves­ti­gate biggest EU socia­list corrup­tion scandal?
The Brussels Qatar corrup­tion scandal is, so far at least, exclu­si­vely a socia­list one. After all, the main accused come from this party. Angel answered evasively:
"Unde­mo­cratic elec­tion back­room deal."
The accu­sa­tion is that Angel's elec­tion was…
… "was nego­tiated in back rooms between the SD and the conser­va­tives, i.e. the EPP and the Libe­rals. The Greens have made the accu­sa­tion: This doesn't reflect the demo­cratic processes either, because they only have one candi­date." (Angel responded evasi­vely from mark 4.15.)
Brussels is "corrupt, buyable, mani­pu­la­tive" (Hidvéghi)
Hidvéghi Balázs.jpg
Hunga­rian Fidesz MEP Balázs Hidvéghi reveals the true poli­tical dimen­sion of the case:
"Nothing changes. It's the same corrupt and poli­ti­cally mani­pu­lated world in Brussels." (origo)
MEPs let them­selves be bought by US firm
For instance, already under the leader­ship of Eva Kaili in the EU Parlia­ment, a ques­tionable soft­ware agree­ment would have been made with a US company (!): This company coll­ects data of the Euro­pean popu­la­tion in order to filter out child abuse and child porno­graphy on the basis of certain keywords. However, this would also transfer the data of tens of millions of Euro­pean citi­zens into the posses­sion of an American (!) company – as Hidvéghi emphasised.
But this is how the Brussels corrup­tion conti­nues: By a foreign actor, in this case a big US corpo­ra­tion, buying poli­tical influence for a lot of money through elected poli­ti­cians. Brussels corrup­tion affects both the EU Parlia­ment, the EU Commis­sion and other actors, he said.
"That is also why for years they have been mani­pu­la­tively attacking certain poli­tical leaders count­ries and parties that refuse to enter the Brussels world and accept ever­y­thing uncri­ti­cally." (Hidvéghi)
Left double-measures on the rule of law using the example of Spain
In this regard, Hidvéghi mentioned Spain, where a socia­list govern­ment has created "very serious" consti­tu­tional and rule of law problems affec­ting the judi­cial system. Nevert­heless, the EU would not with­hold EU funds from this left-wing Spanish govern­ment, as is the case with Hungary and Poland. Accor­ding to Hidvéghi, this is a "text­book example of double stan­dards". He noted that the same rules should apply to ever­yone, inclu­ding the socia­list Spanish government.
Only yesterday, between 80,000 – 500,000 people demons­trated against the Spanish govern­ment in the Spanish capital Madrid.
Suena el himno de España en la mani­festa­ción contra Sánchez en Madrid. Éxito abso­luto. pic.twitter.com/3mi1Z3rRsR

— Rebeca Crespo (@rebecacrespo_) January 21, 2023
Diver­sity mino­rity dicta­tor­ship: early sexua­li­sa­tion of children
With his appoint­ment, the EU conti­nues its provo­ca­tion in the sense of a diver­sity dicta­tor­ship: Angel constantly advo­cates the early sexua­li­sa­tion of children by teaching them as early as possible about trans and gender iden­ti­ties in schools.
The appoint­ment of the LGBTQ extre­mist was prompted by a left-wing majo­rity in the EU Parlia­ment (EP).
Agita­tion against Poland's and Hungary's child protec­tion laws
So the Luxem­bourg Socia­list MEP is parti­cu­larly proud to be at the fore­front of Brussels' agenda against Hunga­rian and Polish child protec­tion measures, led by his EP LGBTQ lobby. And was natu­rally pleased that the EU Commis­sion announced infrin­ge­ment procee­dings against Hungary and Poland in this regard. Marc Angel, co-chair of the EP LGBTQ group, had repea­tedly called for this.
Friend­ship with Maltese revenge porn distributor
Maltese socia­list MEP Cyrus Engerer
On his Face­book page, the left-wing poli­ti­cian freely confessed: to be friends with Maltese LGBTQ acti­vist Cyrus Engerer. Engerer, a repre­sen­ta­tive of the Maltese Socia­list Party in Brussels, was sentenced to two years proba­tion for inten­tio­nally spre­a­ding revenge porn of his ex-husband's partner who had sepa­rated from him.
The Hunga­rian Secre­tary of State reported that:
"Socia­list MEP Cyrus Engerer, convicted of 'revenge porn' by a Maltese court, is now the one in the EP respon­sible for calling into ques­tion Hungary's child protec­tion law?"
SUENA EL HIMNO DE ESPAÑA EN LA MANIFESTACIÓN CONTRA SÁNCHEZ EN MADRID. ÉXITO ABSOLUTO. PIC.TWITTER.COM/3MI1Z3RRSR
- REBECA CRESPO (@REBECACRESPO_) JANUARY 21, 2023
Acti­vist opposes Hungary's "child protec­tion laws"
In an inter­view with Hungary's "Néps­zava" in December 2021, he complained that EU procee­dings against Hungary were "too slow."
"But we keep up the pres­sure: a month ago, a LIBE dele­ga­tion of the parlia­men­tary "EU Committee on Civil Liber­ties" visited Hungary and the EU Parlia­ment will adopt their report within a week. In addi­tion, EU minis­ters respon­sible for Euro­pean affairs are expected to meet again soon to discuss threats to the rule of law in Hungary and Poland under the Article Seven proce­dure. The Parlia­ment is putting pres­sure on the Commis­sion to act on these issues."
Mili­tant pro-early sexua­liza­tion activist
Angel wants LGBTQ educa­tion for children to start very early. In a major inter­view with the EP presi­dent, he said it is extre­mely important to install LGBTQ educa­tion in schools in all member states: Uso m to get a compre­hen­sive picture of trans and gender iden­ti­ties and inter­se­xua­lity. Accor­ding to him, this know­ledge should be made available to all people of any age to teach LGBTQ issues very early in schools.
He bragged about this in his Face­book post where he criti­cized the Hunga­rian Child Protec­tion Act: That he shot a video for RTL in Luxem­berg of the Pride parade, which was aired on a children's channel.
EU is LGBTQ zone
Thus, the Luxem­bourg LGBTQ poli­ti­cian freely considers it a great success that the EP has declared the EU ur LGBTQ zone, which in his opinion is a strong message against Poland and Hungary. Angel also makes sure to constantly promote rainbow ideo­logy with his outward appearance: He carries his LGBTQ flag, which promotes trans­ves­tites and trans­gender people, almost ever­y­where he goes and even dresses up with other LGBTQ access­ories. (Origo, hirado, vadhaj­tasok)
_________________________________________________________________________
Our Hungary corre­spon­dent Elmar Forster, an Austrian living abroad in Hungary since 1992, has written a book defen­ding Hungary against the Western smear campaign. The amazon best­seller can be ordered by UM readers for the price of 17,80.- (inclu­ding postal deli­very and personal dedi­ca­tion) from the author at <ungarn_​buch@​yahoo.​com>.
---
Bitte unter­stützen Sie unseren Kampf für Frei­heit und Bürgerrechte.
Für jede Spende (PayPal oder Bank­über­wei­sung) ab € 10.- erhalten Sie als Danke­schön auf Wunsch ein Dutzend Aufkleber "CORONA-DIKTATUR? NEIN DANKE" porto­frei und gratis! Details hier.
---